Xiang Han –

3rd Prize 2022 Senior Artist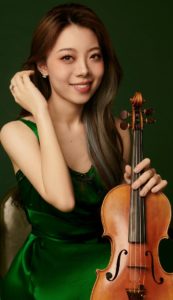 Xiang Han is an outstanding and innovative talent of Central Conservatory of Music. At the age of four, began to learn the violin from Professor Zhang Ti and Associate Professor Tang Weijian of the Central Conservatory of Music.
She won the third place of the 4th Category in 4th Leonid Kogan International Competition for Young Violinists; Won the First Place in the 25th United States International Music Competition( Group D);And won the First Absolute Prize in the 30th Italy 'Città di Barlatta' Young Musician International Competition.won the top Prize: Virtuoso Prize in the Strings Category in New Talent British International Youth Music Competition.And so on 10 international competition gold MEDALS. And has been selected for the 16th International Henryk Wieniawski Violin Competition in Poland in October.
In recent years, she has been active on the stage at home and abroad. She has held more than ten solo violin concerts in Beijing, Hangzhou, Qingdao and other places, and has held Tango Chamber concert In more than 20 cities across the country. Her performance footprints throughout the Central Conservatory of Music, the National Grand Theatre, the Quanzhou Grand Theatre, the Fuzhou Grand Theatre, the Kunming Grand Theatre and so on.
In 2016, she held Chamber concerts of famous artists in many places in the United States, which were praised by experts at home and abroad. In 2020, he was invited to perform award-winning concerts in Barcelona, Spain, Weil Recital Hall, Carnegie Hall, USA. In 2021, she participated in the founding ceremony concert of the Tango Art Research and Practice Center of the Central Conservatory of Music and the New Year World Concert of the Beijing Winter Olympic Village with the Hehe Chamber Orchestra. In March 2022, she successfully cooperated with the Symphony Orchestra of the Central Conservatory of Music. In April, she and the 'Hehe' Chamber Orchestra successfully held several chamber music concerts in the National Center for the Performing Arts.
Professor Jo Cole of the Royal College of Music once spoke highly of Han Xiang as a performer endowed with both virtuosity and high musical accomplishment. And accepted the British media interview, in the domestic and foreign major media release.
She has been concertmaster of Junior Chamber Orchestra, Junior Symphony Orchestra and Youth Symphony Orchestra of the Central Conservatory of Music. And has performed in many countries in Europe with the Junior Symphony Orchestra .
She is the winner of "National Project 211" Scholarship, "National Scholarship", "Fu Chengxian Memorial Scholarship" and "Wahaha Group Scholarship" of Central Conservatory of Music. She participated in performances by important Chinese political leaders celebrating the 50th anniversary of the restoration of the legitimate UN seat. and the 50th anniversary of China-Arab diplomatic relations in Chengdu. And also participated in CCTV programs such as National Treasure.