Tianyou Ma – 2nd Prize Senior Artist 2021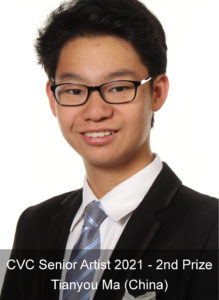 Chinese violinist, Tianyou Ma (20yrs) has been a single study student at the Elder Conservatoire of Music since 2010, where he was awarded a full scholarship to study with Keith Crellin from 2010-2013. Since 2014, Tianyou was awarded full scholarship at The Yehudi Menuhin School and studied violin with Diana Galvydyte. He was also awarded a full scholarship from the Music and Dance Scheme in the U.K. from 2016 – 2019. He started undergraduate study with a full tuition scholarship at the Curtis Institute of Music in Philadelphia in August of 2019, studying with Pamela Frank and Shmuel Ashkenasi.
Tianyou has been a top prize winner in numerous international competitions, including the Menuhin Violin Competition in 2018 (where he was also the recipient of the Bach Prize), the Postacchini Competition in 2015, the Eisteddfod string competition, and the International Summer Academy of the MDW in Vienna.
His music playing has been broadcasted on the online Strad magazine, BBC 3 radio, and OE1 radio in Vienna. Tianyou has performed as soloist with orchestras including the Webern Kammerphilharmonie, Royal Philharmonic Orchestra, Doctors' Orchestra, Yehudi Menuhin School Orchestra, Stuttgart Chamber Orchestra, and Adelaide Youth Orchestra in Australia. Tianyou has performed as soloist in many countries in Europe, Asia, the USA, and Oceana. Tianyou has been invited to attend the Verbier Festival Academy in the summer of 2021.