Gustavo Adolfo Guanipa Gil – 1st Prize 2022 Young Artist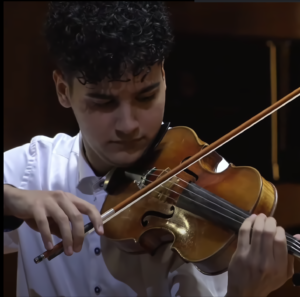 Gustavo Adolfo Guanipa Gil is currently 17yrs old from Maracaibo Venezuela. He began his musical studies at the age of 6 at the José Luis Paz Music Conservatory, at the age of 7 he ventured into violin studies with the Mgtra Ivette Ferreira, then entered the Latin American Violin Academy. At the age of 9 he was accepted to receive classes in the capital city by the eminent Maestro José Francisco del Castillo, he was his student for more than 4 years, he was also part of various Orchestras of the National System of Orchestras and Choirs of Venezuela, he participated as a soloist in several festivals, different regional and national workshops where he received classes with Masters such as Sergio Celis, Francisco Díaz, Edgar Aponte, Pablo Vásquez, and Luis Miguel González.
In 2015, after a national audition, he was selected as a member of the National Children's Symphony Orchestra of Venezuela, where he toured a whole year throughout the national territory, closing the tour with two concerts at the La Scala theater in Milan in Italy under the Maestro Gustavo Dudamel's baton. In 2017, he was selected to be part of the National Youth Orchestra of Venezuela.
Gustavo emigrated to Panama, together with his family, there he participated in the Alfredo de Saint Malo Soloists Festival where he obtained 1st place, continued his violin studies with Maestra Graciela Núñez, participated for two years in the Orchestra of the University of Panama, in the Symphony Orchestra of the National Network of Panama, Camerata Essy Casal, where he participated in masterclass with such notable musicians as Rachel Hunt (Germany) Luis Casal (New York) Ana Maria Valderrama (Spain) Oscar Bohorquez (Germany) Mario Rodríguez (against Rica), Raquel Ovejas (Spain) received Harmony and Counterpoint classes for more than two years with Maestro Sebastián Cohen (Argentina), in 2019 she received a scholarship to study at Interlochen Center for The Arts due to economic situations, he was unable to accept the scholarship.
In 2020 he emigrated to Spain with his family, continued his violin studies online with Mgtra Ivette Ferreira (USA) and Maestro Edson shein (USA) and participated in workshops at the Longy School of Music of Bard College (USA), was recently selected to receive a Master class with Maestro Martin Chalifour (USA), received face-to-face classes for a year with Maestro Alfredo García Serrano (Madrid).
In the same year, he joined the violin row in the Carlos Cruz Diez Orchestra and in the Young Camerata of Madrid and in 2021 in the orchestra of the Carlos II University and the Camerata.
In 2021 he obtained a scholarship to study at the Reina Sofía School of Music, as a student of maestro Christoph Poppen. At the end of the academic year, he obtained recognition as an outstanding student of the violin chair, awarded by Queen Doña Sofia, currently continuing his studies within the school.