Carlos Martinez Arroyo – 2nd Prize 2022 Senior Artist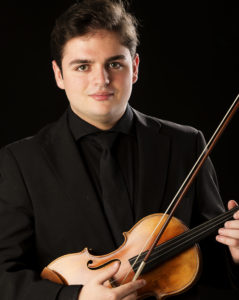 Emerging violinist Carlos Rafael Martínez Arroyo is gaining recognition in his native country, Spain. Since a young age, he has being performing in Spanish concert halls such as "Teatro Maestranza" in Seville, "Auditorio Nacional" in Madrid, Palau de la Música in Barcelona, "Gran Teatro" in Cordoba and Edgar Neville Auditorium, among others.
Carlos has concertized as a soloist with professional orchestras in Spain and Sweden, performing concerti by Beethoven, Brahms, Tchaikovsky, Bruch, Mendelssohn, Sibelius, complete work by Bach, The Four Seasons by Vivaldi and Sinfonia Concertante by Mozart, among others. Additionally, he has performed several recitals with Piano and with Spanish pianists such as Angel Andrés Márquez, José García Moreno, and Arnold Wolfgang Collado. In addition he has performed in the United States as soloist with the New York Session Orchestra, and in Mexico in Festival Internacional Axixic Haus ser Musik.
In 2016, 2017, and 2018 Carlos was selected as one of the members of "Proyecto Talentos", jorganized by Madrid Symphony Orchestra, getting to perform as a chamber musician in Auditorio Nacional. He has also been selected by summer festivals like Isaac Albéniz Festival in Camprodon, Forum Musikae, Young Artist Program in Ottawa, Blackmore's Berlins Musikzimmer and Ashkenasi / Kirshbaum seminar of the Heifetz Institute of Music, getting the opportunity to play for musicians such as Nicholas Mann, David Geber, Shmuel Ashkenasi, Ralph Kirshbaum, Philip Sezter, Nicholas Kitchen, Augustin Hadelich, Frederik Øland, Fredrik Sjölin, Rainer Küchl, David Grimal and Pinchas Zukerman. In 2022 he performs as a member of the Heifetz Ensemble in Residence alongside Ani Kavafian.
He is currently an featured artist of the Voyagers Ensemble in the Hawaii Chamber Music Festival and a member of the Midori & Friends foundation. Carlos has studied privately with José María Fernández Benítez and Gonçal Comellas for eight years. Carlos has recently graduated from his Bachelors at the Manhattan School of Music under the tutelage of Pinchas Zukerman and Patinka Kopec and continues his Masters Degree with Mark Steinberg at the same institution.
Carlos Martínez Arroyo – CVC YouTube